22 mars 2013
5
22
/

03
/

mars
/

2013
12:41
A long time ago, I had this lovely meal at a restaurant, involving scallops and Jerusalem artichoke bits. I can't remember much of it, except that it was really delicious. So, with that in mind, I tried to improvise something the other day. It is not much of a recipe, really, since I basically cooked the artichokes into a puree, fried the cut-up carrots with olive oil in a pan and threw everything together in a plate: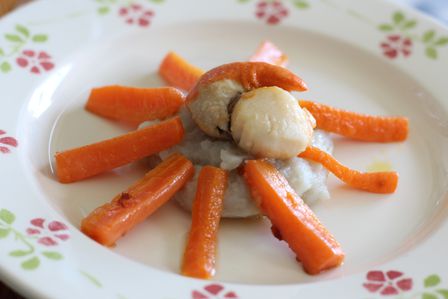 It just happened to fall together quite nicely :-)
For two servings of a small dish (as in the photo), I used:
- 1/2 lb jerusalem artichokes
- 2 carrots
- 2 scallops
For an entree version of the same, I would serve rice and extra scallops on the side (about 5 additional scallops per person).